Free shipping
Free returns
Fast delivery
The product is added to favourites
product has been added to the shopping cart

You don't have any favourites at the moment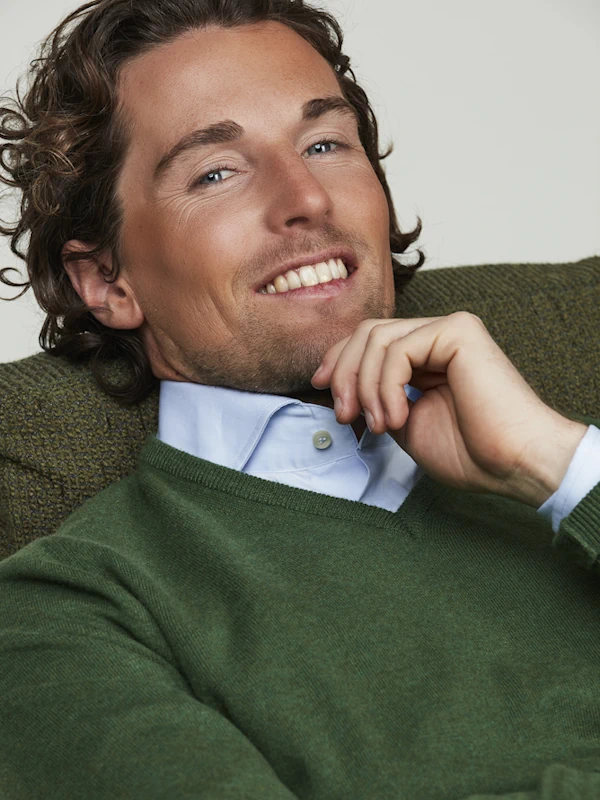 Geelong V-neck Sweater

An incredibly stylish, soft and comfortable v-neck lambswool sweater. This sweater has a "cashmere feel" which makes it feel like a cashmere sweater. It is slightly oversized in the fit, which gives a nice and comfortable look. It is available in three attractive colors to choose from. Don't buy one, buy all.

Carl Henrik
Chief of marketing & Sales
A premium brand
Hansen and Jacob is a premium clothing brand for men. Our products range from well-tailored jackets to distressed jeans. The products are sold in our online shop and in chosen premium stores with experienced staff. Our brand is well-known for its international style and for always being a little ahead of the trends.
Hansen and Jacob was founded in 2006. Our first collection was launched that same year. We decided early on that we didn't want to be like other brands, sacrificing quality for commerce. That's why we never take shortcuts when it comes to quality, attention to detail, design and fit.
We offer upgraded casual clothes in famous designs, colors and well-designed models. It's easy to match and combine our products. Thanks to our high-quality fabrics, tailored fit and excellent design, our clothings is the definition of classic. Something you can wear for a long time.
A fit beyond the ordinary
Each of our products is well-crafted to suit most men. We're not perfectionists, but we always do our best to create appealing, classic designs, and have them made by the best manufacturers in the world. Because it's the design, the choice of fabrics and the manufacturer's knowledge that create the best fit.
Of course, everyone is welcome to wear our clothes, shoes and accessories. But most who choose Hansen and Jacob are men who understand and appreciate high-quality clothes. Men who demand luxury, style, finesse, and fit to help them feel well-dressed and relaxed in all situations, from leisure activities to important business meetings. Men who appreciate the craftsmanship behind a piece of clothing as well as all the smart and thoughtful details.